sunhawk16
commissioned me to celebrate RayGunWorks' anniversary. Here we have Heero and Duo in Steampunk gear atop a cliff. What are these two up to, I wonder. I also included work-in-progress pics. I don't usually take step by step pictures of my progress, but this time I have enough to show a bit of the process. Thank you for viewing and enjoy!

( The watch read 2 PM )
*waves*
EDIT: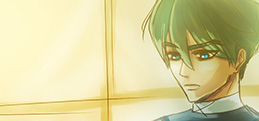 lil_1337
and I got caught up in the possibilities...So, a quick Heero sketch was made. XD Details in the comments.
( Heero's promise )